I love Pad Thai, the closest take out place to my work is a Thai restaurant and I'm constantly tempted by my co-workers lunches. Luckily for me, this is my fiancé's favorite paleo dish so I have a good reason to hold out and make it at home, besides the fact that it's incredible of course.
Pad Thai
2 Chicken Breasts, cut into pieces
8-10 Frozen Shrimp, thawed and exoskeletons removed.
3 large eggs
2 teaspoons coconut aminos
2 teaspoons plus 1 teaspoon coconut oil
1/2 medium onion, finely chopped
1.5 cups snap peas, thinly sliced lengthwise
2 tablespoons of organic, no salt, Thai Spice
Handful of cashews, crushed
1 cooked spaghetti squash
"No Peanut" Sauce
1/4 cup creamy almond butter
1/4 cup Sunflower Seed butter (make sure it's the kind that is not sweetened)
1/3 cup water
1/4 cup coconut Aminos
2 TBSP Fresh Ginger Minced
3 garlic cloves, pressed through a garlic press
1 heaping tsp of curry powder
1/2 tsp cayenne pepper
*If you are not concerned with this being paleo, Whole Foods makes a great store brand organic peanut sauce that works wonderfully
I make the sauce first because there is a lot going on in the main dish, IMO, so I just toss it all in the food processor and call it good, let it sit there.
I am a lazy cook so I like to use no more than two pans, like ever. 2 is pushing it as it is. You can do all this in one, but it taste better in two,so I say start with the eggs, scramble them up really finely and set them aside on a plate for later.
Take your coconut oil and sautee your onions and peas in that same pan. they will be done before your meat so set aside when they are done.
In your other pan take the rest of your coconut oil and start getting your chicken cooked. As it gets mostly cooked on the outside add in your organic Thai spice.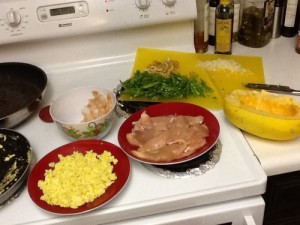 While this is all going on, split your spaghetti squash in half and put in the microwave for 10 minutes. You will let it sit one minute and then remove the "noodles" by scraping them with a fork. I usually do this into a strainer to get rid of extra water but that is optional.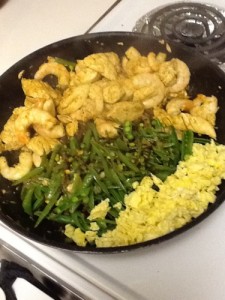 As your chicken starts too look like it's going to be done shortly throw in your shrimp, they take much less time to cook. When your meat is fully cooked move all the items, eggs, peas, onions and such into the hot skillet. Mix in the spaghetti squash and sauce, top with crushed cashews.
Enjoy the amazingness 😉