This dinner uses mostly precooked, or instant, ingredients, so it is a super fast and easy way to feed a lot of people for a really low cost! Great for big families in need of an easy dinner, or single people who want to cook in bulk. It's super cream and reminds me of a pot pie. So good!
INGREDIENTS:
1/2 pound diced or shredded chicken breast.
15 precooked thawed shrimp.
2 large, or 3 medium, zucchini, diced into quarters
1 jar (about 12 oz) of roasted red peppers. Drained and sliced.
1 1/4 cup of uncooked instant brown rice.
2 cans Condensed Cream soup. Celery, mushroom, chicken, potato, etc. Doesn't matter, whatever your taste is. About 10 ounces each.
1 cup chicken broth or stock.
1/2 cup non fat Greek yogurt.
Salt and pepper to your own taste.
INSTRUCTIONS:
Heat the oven to 375 °F.
Grease a 9 x 11 baking dish.
Stir the chicken, shrimp, zucchini, peppers, rice, salt and pepper, into a bowl and pour evenly into dish.
Mix the soup, Greek yogurt, and broth, together.
Pour on top of the dish, covering evenly.
Cover with foil.
Bake for 35 minutes.
Uncover and stir.
Bake for 10 additional minutes.
Let sit for 10 minutes and stir before serving.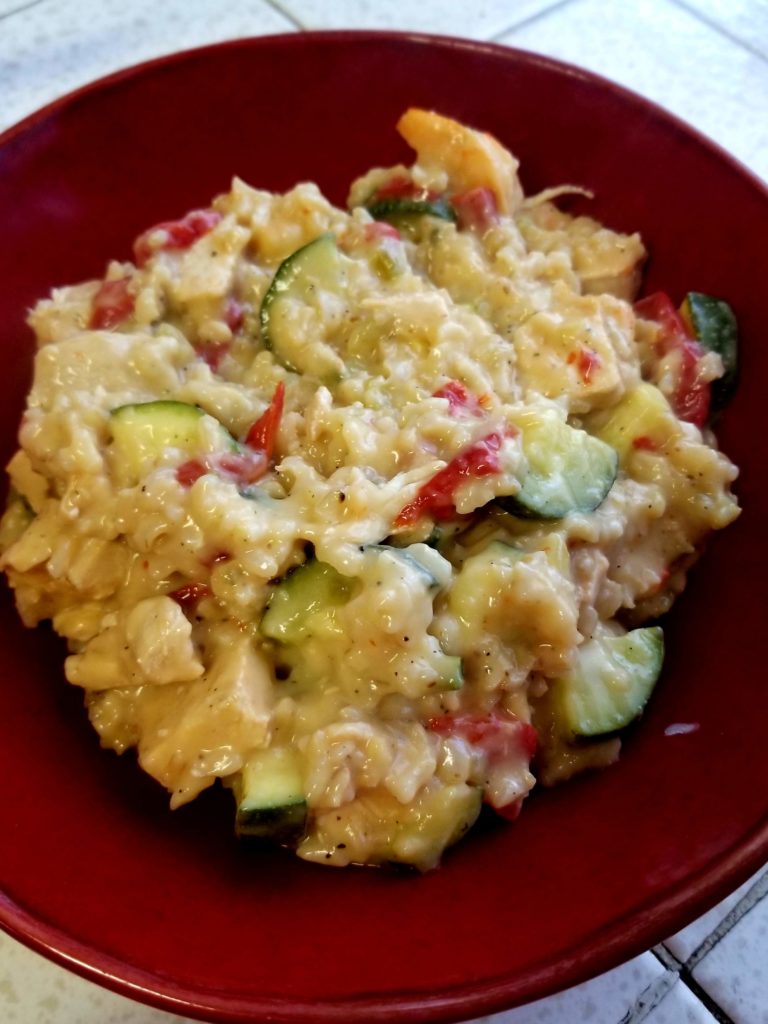 Makes 4-6 servings.
Sign up for my newsletter for more tips, sales, recipes and updates!