I have gotten a lot of texts and comments wondering what the heck we are doing, why we moved to FL, and what our plans are. I wanted to put together a post for you, to help clear it all up!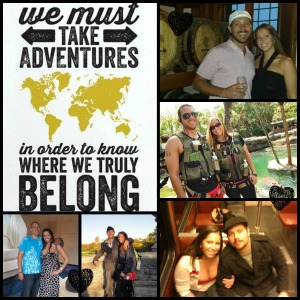 You probably know by now, I no longer have a job that requires me to be anywhere.I became a full time Life Transformation Coach a little over 2 years ago, and I work almost completely online, with fun travel provided by the company sprinkled in here and there.
This past year, as Snow and I were approaching marriage, and talking about kids, and home buying, with down payments and retirement plans … you know everything that makes the Sapphire / Promoter in me want to vomit and run the other way most days LOL … I proposed we not tie ourselves down to quickly. Of course by us I meant me Commitment is not my thing, I can't even go to a restaurant without ordering 2 things, or like a sampler plate or something.
The thing is I had no idea what I DID want, just what I didn't.I had spent a whole year working way too much, and I just wanted some freedom. Marriage is big enough, without adding the rest of the "grown up" details to it. It caused a lot of turmoil for me, because I knew I wasn't ready, but at the same time, didn't really see a better plan. I've never been big on road trips, although I love being new places, and I think I had felt a little too comfortable where I was, but I also felt suffocated.
I planned a trip to decompress from the push for Top 10, and see some of my amazing fellow Coach friends out in Florida, basically just get the eff out of my head. The trip, that involved a 5+ hour road trip in crazy sideways rain, a ton of AMAZING memories, great food, new friends, and huge laughs, changed me somehow. I felt more empowered, adventurous, and hopeful than I had before. Things just seemed bigger, grander, or more possible. I will never be able to explain it to anyone, I was just different.
Sitting in the tiniest little airport in Vero Beach, FL, about two cocktails in, I got out a pen and grabbed a bar napkin and started thinking of places I'd like to live. I started to think about all the plans we had for the next year already, all the free trips Beachbody was sending us on, and put together a schedule. At 3:17 pm on 2/25/14 I text Snow "What are 3 places you would want to spend at least a month?". His of course were all outside the US, which is my fault, gotta be specific
I arrived at home about a half a day later, and barely made it into the house before I sprung the idea of spending a year just being totally FREE in the world together before we started working on a family. Now the one thing I always have to give Snow, is he freaking DOWN for an adventure. We have pics of us in like 20 countries I swear. It had to get flushed out, and it for sure changed a few times, but we came up with a perfect outline for our year.
I broke down the whole year for you guys below:
-November-ish until March-ish: Florida
-April : San Diego / Cancun Trip with Team Beachbody / Snow staffing Passion w/ Benchmark / Amber at Stagecoach w/ Shara
-May – Mid July: Bend Oregon w/ family reunion in SD + NE weekend in June
-July: Nashville Summit Trip with Beachbody & Chicago Trip w/ the Shucks
-End of July – October: Seattle / WA
-October – San Diego, Leadership trip with Team Beachbody & Platinum Edge w/ Team Beachbody in Dallas.
-November – December: Europe adventures! Christmas in Germany for sure.
We are going to soak up each place, be fully present where we are, continue to help thousands of people across the US and Canada take control of their health, finances and happiness, and just really be together#TeamSnow style. When we are all done we're going to decide where to live and settle down for family time
We are going to face challenges I am sure of it, we've already hit a few. I also know that we will experience incredible growth, closeness and insight that we would have never gained otherwise.
We really do hope you'll follow along as we adventure around, and humor us by caring about mundane details like # of states, finding a Whole Foods, and random places are are working. We would never have had the courage or the means, to do any of this without our friends, family and followers so, in advance, THANK YOU <3