Yep you've seen it on Facebook and Instagram for months now, every dang week! I kept sending people to another site for recipe, until I realized, that isn't even the recipe I use anymore LOL. I change things all the time, and I've found the perfect recipe for me, so here is how I actually make it =D
Ingredients: 
4 chicken breasts
6 cups bone broth (any broth is actually fine, I use organic premade when in a time crunch)
1 bunch of kale (or a bag of precut kale, usually meant for juicing)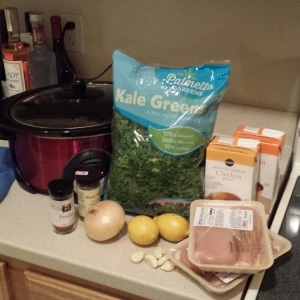 5 cloves garlic
2 lemons (you'll need the zest AND the juice)
1 cup onions (basically just 1 large onion)
Parsley, Himalayan salt and pepper to taste!
Directions: 
Broth goes in first, then the kale. De-stem and cut the kale, or just throw it all in the food processor real quick. Don't process too much, you will get kale mush =P Chicken on top of that in the slow cooker.
Toss the onion and garlic and the lemon juice from your two lemons into the food processor and choose your consistency. Smoother makes a creamer soup, I leave mine a little chunky.
Pour all that in and then top with spices and zest of your two lemons.
Cook on low, I usually cook it all day but you don't really need to, a few hours is fine. You will just open and stir and the chicken will fall apart and shred it's self, that is how you know it's done.
Reheat all week, it makes a ton. Enjoy!