This was hands down the best bread I have ever made and it's completely wheat free! I started making bread every week on Sundays based on a muffin recipe I came across. It's been tweaked every week until I hit perfection today! It is moist, fluffy, and sweet. An incredible snack to have on hand for the week and nibble enough to keep your paleo rules intact.
Ingredients
1/2 cup coconut flour
6 eggs
1/3 cup agave nectar
1/3 cup olive oil
1/3 cup crushed cashews
2 bananas finely chopped
1/2 apple finely chopped
1/2 cup carrot shreds
1 tbsp vanilla
1 tsp baking soda
Handful of raisins
*coconut oil for greasing pan Instructions
Directions:
Preheat oven to 350 degrees
Mix all together in food processor on stir / low or beat with hand mixer. Basically just get it all in there and squished.
Grease a glass pan with coconut oil and pour in.
Bake 30-35 min.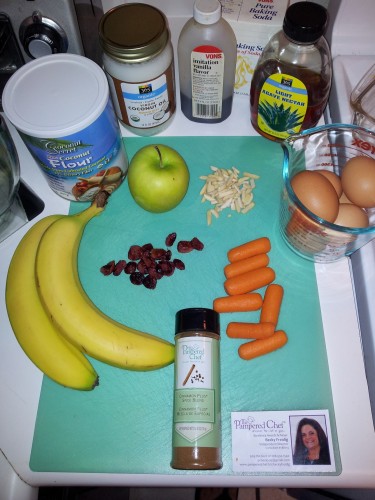 Try it warm, it's freaking amazing 😉 Huge shout out to my girl Becky who sent me the spice for free to try and it was the PERFECT missing ingredient to this recipe 😀 THANK YOU!!!